Alternative drives
Kässbohrer is propelling the development of alternative drives forward: Ready to go into series production and affordable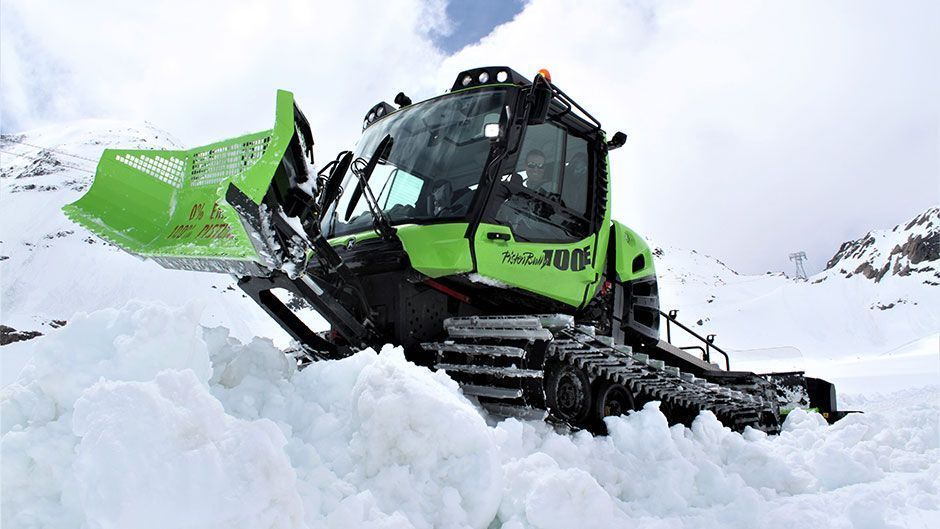 Kässbohrer has long been a forerunner in terms of sustainability and environmental awareness. That Kässbohrer offers the only alternative drive is not an accident: the PistenBully 600 E+ with diesel-electric drive has already been on the market for roughly ten years – and is now in the second generation. It's also no accident that the PistenBully 100 E has become a realistic emission-free alternative for cross-country ski trails and indoor skiing. Moreover, it is no accident that Kässbohrer has been part of a pilot hydrogen project since 2019 with the goal of bringing a vehicle that is ready for series production to the slopes.
PistenBully 600 E+ - milestone among snow groomers
As a technological leader with a long tradition, Kässbohrer Geländefahrzeug AG feels obligated to improve things. Already in 2012, the first diesel-electrically driven snow groomer was deployed in an alpine application. The demand for the second generation 600 E+ is even exceeding supply. Excitement about the vehicle abounds. As Dominik Kalbermatten, Manager of Slope Rescue at Saastal Bergbahnen AG puts it: "There is no way we would give up our PistenBully 600 E+!"
PistenBully 100 E: on the path from concept to a product that is ready for series production
The transition has also been accomplished with the first fully electric PistenBully 100 E. Presented as a world's first at the Interalpin 2019, Kässbohrer is now taking the next step forward and developing the trial further toward series production. Of course, we are utilizing the synergy effects from experiences gathered over the past 10 years for electric drives. "We not only want to make this technology ready for series production but also affordable," explains Michael Kuhn, Vice-President Construction & Development at Kässbohrer in Laupheim. "This promising technology won't be used widely until it is affordable. And only then will it have a positive impact on nature."
Future focus on hydrogen
The traffic experts in Europe agree: the infrastructure will not allow for a practicable use of hydrogen-driven cars until mid 2020 at the earliest. Here in the mountains, it will take a little longer. "Once filling stations are available at ski areas, we will be ready with an affordable hydrogen machine that is ready for series production," promises Michael Kuhn. This is why already at the beginning of 2019, Kässbohrer became a development partner in the Austrian "HySnowGroomer" project for the development of a hydrogen driven snow groomer with the corresponding infrastructure. "At the same time, we are in communication with several multinational manufacturers to be able to offer our customers a state-of-the-art and high-quality drive technology that can be supported by our Service Department worldwide."
Clean skiing enjoyment for operators and winter sportsmen
"The HySnowGroomer project is the logical next step in our strategy for efficient and lasting slope preparation," says Kuhn in summary. "Because one thing is certain: the call for sustainable concepts is becoming louder and louder in the mountains as well. Sustainable action not only protects the environment but also ensures guest satisfaction and thereby high economic efficiency. This is why we are working on sustainable, affordable drives that are ready for series production. We are the right partner for a future with clean and efficient slope preparation and environmentally conscious skiing fun"