Endurance tests successfully passed
The electric PistenBully 100 E was quite a ride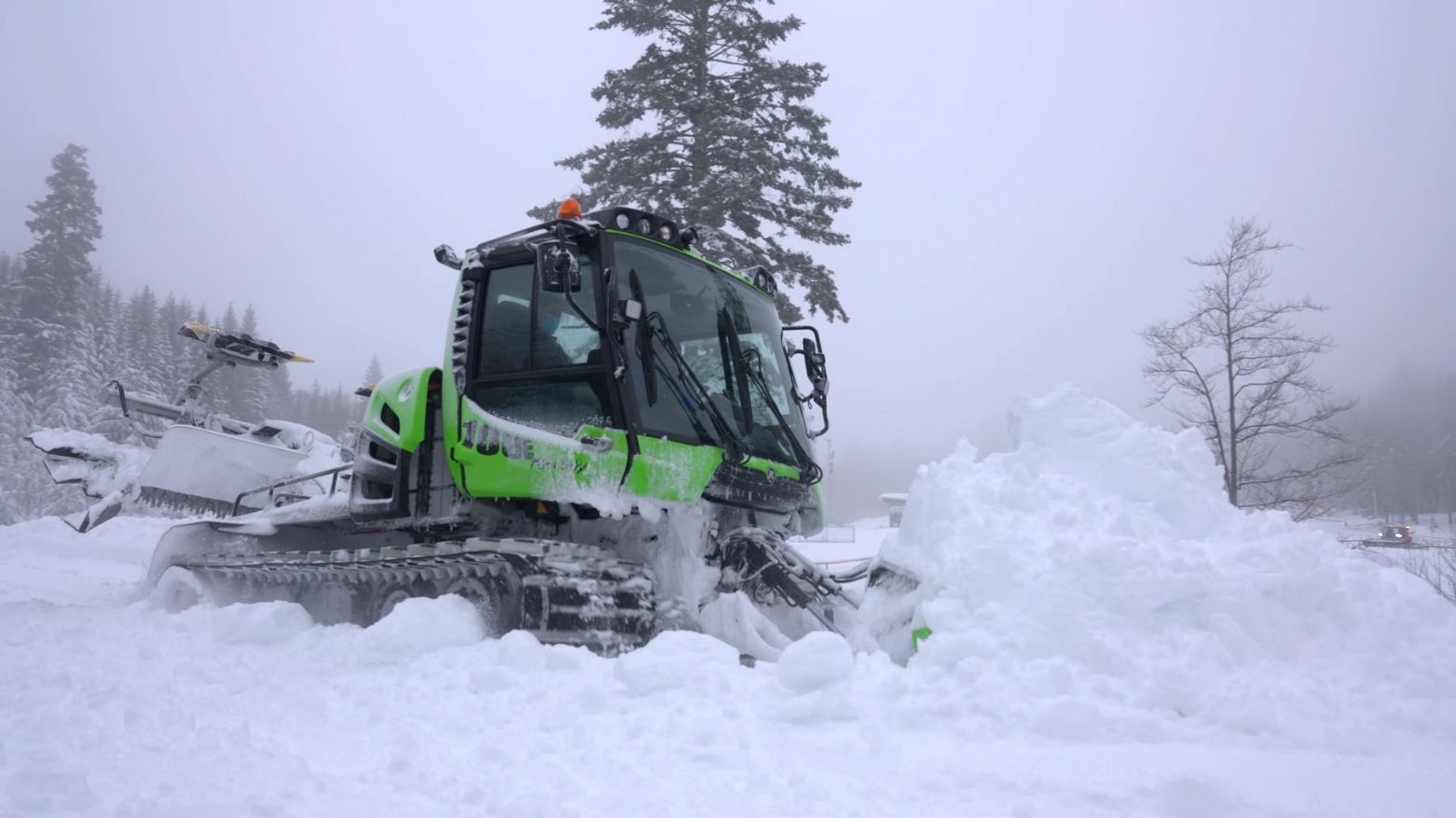 Snow flurries, wet spring snow and powder, indoor ski slopes and glaciers: the PistenBully 100 E fought its way everywhere last season - and left great marks. Not only in the snow, but also among those who have already had the chance to get to know it.
"This goes exactly in the direction of how we envision sustainable tourism," says Konrad Kienle, mayor of the Balderschwang community about the PistenBully 100 E. "The Balderschwang community sees itself as a model community for sustainable, nature-based tourism. It's a perfect fit for that to have a PistenBully that is powered 100% emission-free for grooming trails and slopes."
Tough practical tests
Before a study vehicle with such serious innovations as an electric drive can go into series production, intensive tests are an absolute prerequisite. Intensive they certainly were - and in several ski and cross-country ski areas under completely different conditions. The PistenBully 100 E, which is 100% electrically powered, was to be driven there as close to real-life conditions as possible and put through its paces. This is what happened in Balderschwang and Gunzesried in the Allgäu region as well as on the Kaunertal Glacier, the Black Forest Nordic Center Notschrei or in the skiing and cross-country skiing area Mehrstetten in the Swabian Alb.
Familiar operation and a completely new skiing experience
The drivers were given specific instructions as to driving speed, cutting depth, contact pressure of the snow tiller, track setters, etc. They were in constant contact with the Kässbohrer test engineer, Andreas Mayer, via the built-in GPS. He, in turn, was able to evaluate the recorded data in real time, and, if necessary, access the PistenBully directly. And the drivers have tasted blood, including Stefan Steurer from Balderschwang: "We normally drive a lot by ear, which is not possible with the PistenBully 100 E because it is so quiet. It was an adjustment at first, but in the long run it's very pleasant to drive." And his colleague Gernot Steurer adds: "The advantages of the electric vehicle are: You don't hear anything, and there aren't any exhaust emissions. You just drive off, because the operation is exactly the same as with the other models."
It ran and ran and ran
Andreas Mayer, responsible test engineer at Kässbohrer, looks back on the past test season with satisfaction: "The PistenBully 100 E is back from winter use. We as well as some extern operators tested it intensively at various locations and under different operating conditions. Failure: a dead giveaway. Not a single component failure forced us to repair it on the slope. It ran and ran and ran... We will continue to optimize it over the summer with the measurement data we have obtained." Head of Development Michael Kuhn adds, "I'm very confident about our plans next winter!". One can only wait with curiosity.