PRO ACADEMY Camp in Sölden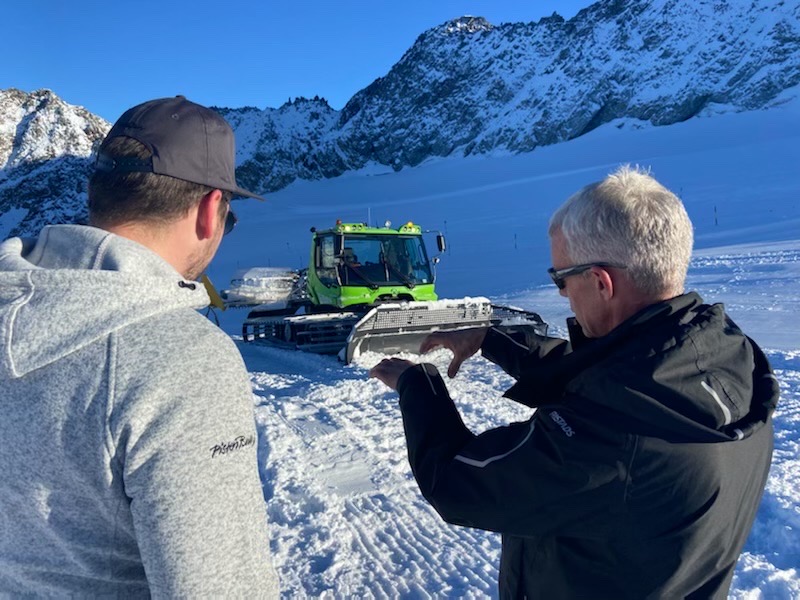 The first PRO ACADEMY Camp took place from November 7–18. At this camp, exclusively in Sölden, Austria, the PRO ACADEMY offered training courses for managers, operators and mechanics. Places in the training courses could be reserved individually – whether for beginners or advanced learners who want to get the most out of the machine and software in daily operation. The training included both basic knowledge and advanced knowledge. The goal of the camp is to provide the participants with a basis for decision-making for slope grooming in their own ski area.
In the first part of the camp, PRO ACADEMY trainer Erwin Ludwig taught theoretical and practical basics on the possibilities, functions and interrelations of the SNOWsat solutions. The training content included SNOWsat Z, Fleet, Dashboard, ToDo and GIS. The topics of snow depth measurement, snow management, fleet management with options for analyzing seasonal data, task management and handling of geoinformation data were treated in greater detail.
Practical operator training courses were another focal point of the camp. On the Rettenbach glacier, participants learned how to operate a snow groomer in various day units under the direction of PRO ACADEMY trainers Roland Winkler and Anthony Bowman. Here the participants were taught how to use the vehicle efficiently and in a manner that conserves resources – for example, when restoring worn slope sections or dealing optimally with the existing quantity of snow. But these courses also included information about safety and necessary daily maintenance tasks.
A total of 36 participants from Germany and Austria took part.
The PRO ACADEMY looks back with satisfaction on successful days and is looking forward to the next PRO ACADEMY Camp! The participants had good things to say about the camp offering a platform for snow groomer operators to talk with each other. This enabled them to share experiences and new ideas. Another effective feature was active collaboration on a laptop during the SNOWsat training courses. This ensured the transfer from theory to practice, and individual situations from the individual ski areas in the group were discussed. Having been optimally prepared, the participants are looking forward now to starting work in the coming season.